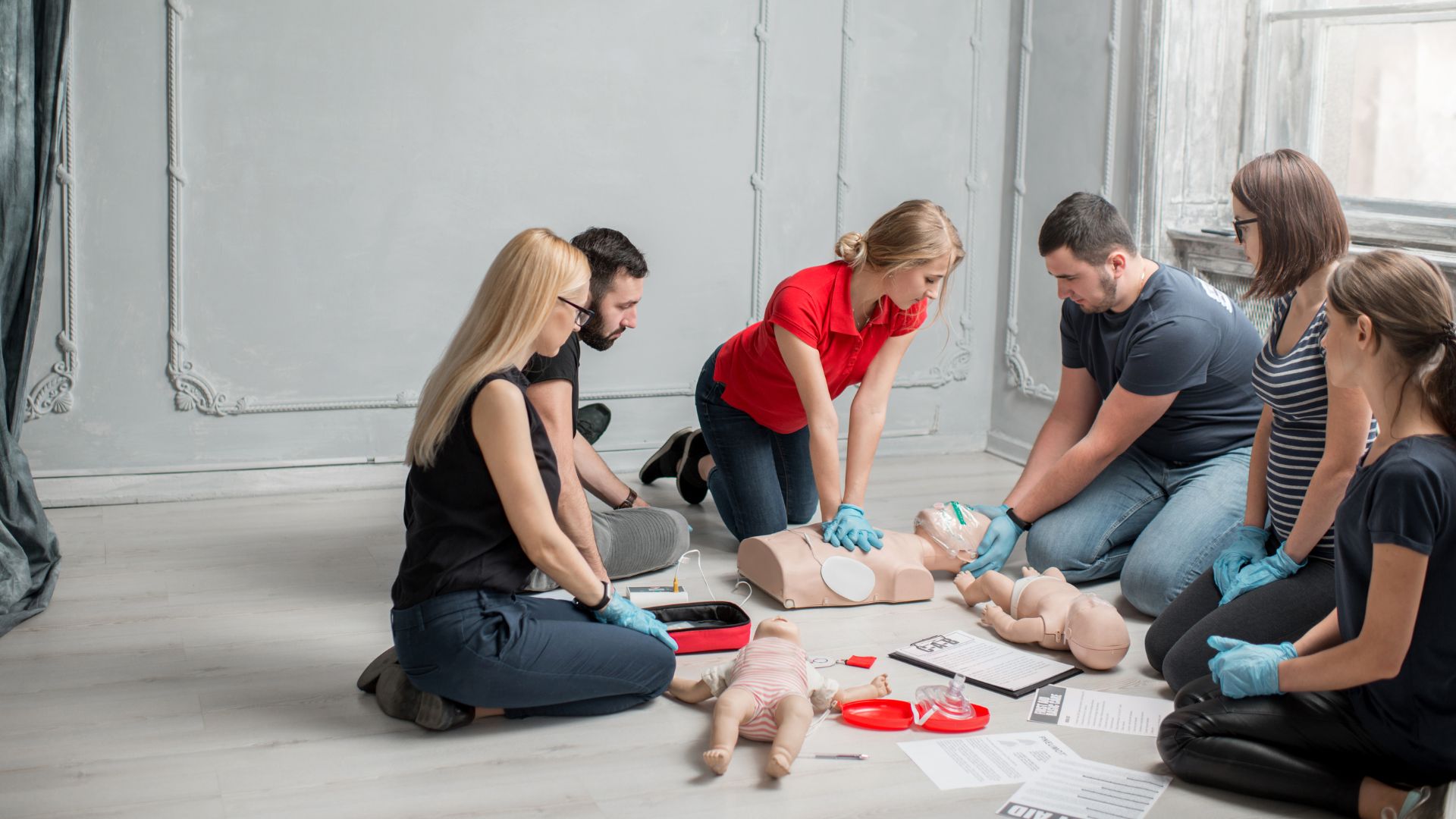 In the US, 9 out of 10 people that go into cardiac arrest outside the hospital die annually. This statistic, as many other regarding cardiovascular disease in America, point to the importance of CPR.
When it comes to contributing to public safety and preparedness in emergencies, CPR plays a vital role. Anyone can learn how to provide this first aid technique, and the course options are diverse enough to accommodate everyone.
Obtaining CPR certification is a valuable investment for those interested in equipping themselves with life-saving skills. Still, for many Texans, the average cost of CPR certification in El Paso is crucial when considering signing up for CPR training.
If you're interested in learning about the average prices for different course formats and curriculums, keep reading.
Factors Influencing the Cost of CPR Certification in El Paso, TX
The average cost of CPR certification in El Paso can vary depending on several factors: training providers, certification levels (such as basic or advanced CPR courses), and course duration.
Let's go through all these factors one by one:
Training Providers
Firstly, the choice of training providers significantly affects the cost of CPR certification in El Paso. This is because different organizations and institutions usually have varying pricing structures based on their reputation, experience, market position, and the resources and programs their offer.
Typically, well-established and reputable training providers may charge higher fees due to their high-quality training materials, experienced instructors, and updated and sophisticated facilities and working conditions. On the other hand, some other smaller or lesser-known providers may offer lower prices to attract students or have a better price-to-value ratio.
Certification Levels and Styles
CPR certification in El Paso is available at various levels, such as basic CPR/AED, and all the way to advanced CPR courses. Some organizations even mark the levels as Level A, B, C, and BLS. Each level corresponds to a different skill set and knowledge base; therefore, the cost of the CPR certification varies accordingly.
Basic CPR certification focusing on adult CPR techniques is less expensive compared to more advanced courses that include pediatric training for infants, children, and more special situations. This also influences the cost of the CPR certification.
Hence, courses covering different levels or styles may have higher costs compared to a basic short-term CPR certification course.
Duration of the CPR Certification Course
Another important factor affecting the overall cost of CPR is the duration of the CPR certification course. Shorter courses that provide and cover basic CPR skills typically cost lower compared to longer courses that cover a broader range of topics, including advanced CPR techniques, additional certifications, and hands-on practice time.
It's crucial to consider the required course duration to ensure adequate training while still balancing the cost. Check out various different options to find what kind of course suits you best, taking into consideration your schedule and needs.
Additional Certifications Like AED or First Aid Training
Training covering Basic Life Support (BLS) techniques or combinatory courses with various certifications, such as CPR and AED or First Aid certification, may have higher costs compared to a basic short-term CPR certification course.
Many CPR courses in El Paso include these additional certifications, such as First Aid training or AED (Automated External Defibrillator) training. These certifications enhance the individual's ability to respond to emergencies comprehensively and more effectively.
However, as mentioned above, the inclusion of these certifications may increase the average cost of CPR certification in El Paso. Due to this reason, it's key to assess the value-to-price levels of the additional certifications, gained skills and knowledge, and their relevance to the individual's needs and goals before making a decision.
Other Factors
There are more factors that can affect the price and the suitability of the CPR certification course. The modern-day life benefits give the opportunity for different course learning platforms, such as real-life or digital online courses. This can also influence the price of the CPR training course.
In addition, the type of CPR certificate these courses provide you with may also vary. Furthermore, there are group courses and individual courses, which also affect the price.
Average Cost Range of CPR Certification in El Paso, TX
In El Paso, TX, there are a number of different CPR courses that offer certified programs, both in-person and online. Let's go through some CPR certification cost ranges:
Average CPR Certification Cost
For the in-person Red Cross CPR or First Aid class, the prices in El Paso, Texas, range between $37 to $126 per person. From there, we can say that the average price for a CPR course is around $80. These are the prices of the accredited Red Cross CPR classes; however, there are many training providers offering cheaper options, as well as more expensive courses.
Online CPR Training Classes Cost
There are also online CPR training courses that usually cost less than the on-site CPR courses. The online training courses covering different CPR topics offered by the Red Cross are priced at $37.
Basic CPR/AED Certification Course Cost Range
The cost of basic CPR/AED certification courses in El Paso typically starts around $42. These types of courses cover essential CPR techniques for adults and include topics such as recognizing cardiac arrest, performing chest compressions, providing rescue breaths, and using an AED. Basic CPR courses are suitable for individuals who require a foundational understanding of CPR skills.
Advanced CPR Certification Courses
A number of advanced courses in El Paso, include CPR training for infants, children, or more complex CPR knowledge. The price for these courses is usually higher compared to the more basic version, and it can go above $100 or more.
Additional Certifications
Courses offering multiple certifications such as CPR, AED use, BLS, and First Aid may be on the more expensive side. There are combined CPR courses that are priced a bit higher, but there are many more affordable options for the combined programs as well giving additional value for the price.
Individual Trainings
There are some providers that offer individual CPR courses, and they are sometimes priced higher than the group courses. Still, the cost of the CPR training will depend on the training duration as well as the program.
Group CPR Training Cost
Many CPR training centers have special offers or discounts for groups, such as companies, schools, or similar. There are even some CPR courses that are free of charge, organized by an employer, or institution, online courses, as a community project, or similar. Such example is the University TTUHSC El Paso that offers free of charge CPR classes to personnel and students. Typically, the CPR and First Aid certificates are valid for two years.
However, the average cost of group CPR training ranges from $280 and up as the minimum cost for a class of 8 individuals for a basic two-hour CPR training, which costs from $35 per trainee. A more advanced four-hour CPR training that covers emergency response strategies costs around $45 per trainee and adds up to $360 for the whole group of 8 trainees.
Add-on Trainings
Some training centers have add-on training or additional extension trainings to add to your CPR or AED classes. The prices for these may sometimes go from $5-$15 per person or student.
Final Thoughts
The average cost of CPR certification in El Paso depends on many factors, such as the training providers, the certification level, the duration of the course, the additional certification offered, and more. The national average of a CPR certification course in El Paso Texas is $80 per person.
When choosing a CPR course, it's important to balance cost considerations with the quality of training received and the specific needs and objectives of individuals. By being well-informed of the cost differences between the CPR classes, the evaluation process of the various options will be much easier. It's crucial to do proper research before making a choice.
In any case, CPR certification is a valuable investment. By having more CPR-certified people, communities will become safer, prepared to deal with emergencies more efficiently.